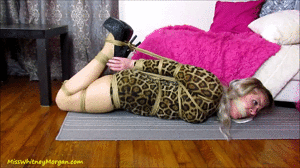 5:28 video
Tied and filmed by the lovely Sandra Silvers!
Oh no! Looks as though the struggling damsel Miss Whitney Morgan's captor has returned to add MORE ROPE on her.. now not only are her legs, elbows, and arms tightly bound.. complete with crotch rope, chest harness, and heel tie.. she's also now HOGTIED! TIGHT! She struggles on the floor in a tight hogtie, tight short dress, suntan pantyhose.. all the while cleave gagged with vet wrap and of course mouth packing to keep her gag talk and cries for help muffled as she struggles until exhausted.
Includes: rope bondage, chest harness, cleave gag, vet wrap, mouth packing, gagged women, hogtie, hemp rope, bound, struggling, damsel in distress, heel tied, crotch rope, pantyhose.