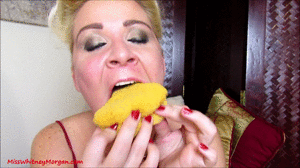 8:02 video
In this part 3 of 4 series, Miss Whitney Morgan explores YOUR personal gag fetish fantasies.
She starts off by showing you her hint of gag face, bright red from layer after layer gagging herself tightly for you.
Whitney pulls out a CAR WASH SPONGE! Yep, she's going to fit the WHOLE THING in her HUGE MOUTH! Cheeks puffing out, but every little bit shoved deep in her mouth. To keep it all in, she slides her suntan sheer pantyhose hood back over her head, nice and tight. Sealing it up with black electrical tape - over her pursed lips, around her mouth, around her head - layer after layer. But she's not done, more microfoam! Wrapping layer after layer over every bit of electrical tape, all around Whitney's head. Muffled gag talk as she admires her self gagging job, running her hands over her face.
Slowly she peels off every layer after HOM herself, showing off her tightly gagged work.
Now on to the last set of gag layers!
Includes: gag talk, gagged women, self gagging, layered gags, mouth packing, sponge gag, pantyhose hood, electrical tape gag, tape gag, microfoam gag, headwrap gag, mouth fetish, pov, gag fetish.