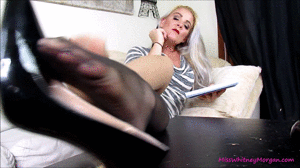 18:44 video
Miss Whitney Morgan knows how much her boss loves her feet enjoys playing into her tape bondage and self gagging fantasies.. so much that she's so frazzled getting ready for work she puts on two completely different stockings.
While doing a little busy work, she doesn't notice you gazing upon her. She dangles her high heels, slips them off and teases her boss (pov) with her stocking clad soles - one nude, one black. Running her nylon feet together, wiggling, spreading her toes through the sheer nylons.
Slowly she pulls out an array of self gagging materials, she knows how much you love it when she stuffs her mouth to shut up.. but you know she always mmmfffs and gag talks to you.
She stuffs her big red lips with her own white panties she's been wearing to the office all week, sealing it in with silver duct tape cleaved through her teeth, wrapping it tightly around her head over and over.Followed by layer after layer after layer of transparent vinyl tape. Last but not least she coats her mouth and around her head with white microfoam tape, using the whole roll from her nose down to her chin.
Seductively she teases you, putting her hands over her mouth, showing off how tightly sealed her mouth is, gagged shut. Gag talking to you ever so muffled. Slowly... she peels every layer off, all throughout begging YOU to tape her up tight next time.
Includes: self gagging, gag talk, tape gag, mouth packing, duct tape, mouth stuffing, blonde, secretary, pov, stockings, nylons, feet tease, dangling, gagged women, self gagged, tape cleave, clear tape, microfoam, gag talking, gag removal.