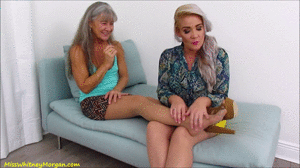 12:16 video
Dr. Whitney Morgan has had so many ticklish guys and gals in her office.. sometimes it's hard to rember who.. at least when they get away.. Leilani Lei is no stranger to the Foot Tickle Therapist, but Dr. Whitney is far too distracted by her sexy strappy sandals, pantyhose feet, legs, and pretty blue pedicure.. to notice Leilani's hands creep up and wrap around Dr. Whitney's face! Dr. Whitney gasps, her eyes cross, roll into the back of her head, as her limbs fall to her sides. "Time for a little foot tickle therapy reminder on YOU Dr. Whitney!"
Leilani ties up Dr. Whitney TIGHTLY with detroyed pantyhose she found around the office - surely damaged from the legs and feet of previous poor tickle tormented clients. Dr. Whitney in a pantyhose bondage hogtie is at Leilani's MERCY! Leilanie pulls out every tickle tool Dr. Whitney has hiding around the office from feathers, to hair brushes, to toothbrushes to TICKLE TICKLE TICKLE Dr. Whitney's pantyhose soles!!
Includes: tickling, tickle fetish, ticklish, foot tickling, pantyhose destruction, pantyhose bondage, pantyhose feet, pantyhose fetish, ticklish feet, laughing, feather tickling, hairbrush tickling, toothbrush tickling, HOM, hand over mouth, shoe removal, blonde, milf, hogtied, eye rolling, eye crossing.