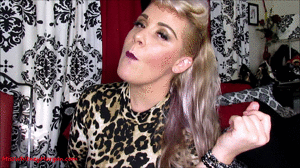 (This was a custom clip. If YOU are interested in discussing custom content, shoot me an email!)
Bratty bitch Miss Whitney Morgan notices you're rather annoyed with her chewing gum ever so loudly.. Oh so close to your face, with in ear shot. "Does it bother you when I blow bubble gum bubbles and they POP loudly? When I smack my lips when I chew with my mouth open? Oh, even more when I snap and smack my bubble gum in my mouth popping little air bubbles of the stretchy chewing gum in between my teeth, with my tongue! Only silly losers with small dick energy would get annoyed by something so frivilous.. You MUST have a SMALL little penis.. and that ONLY makes me want to annoy you MORE!" Pitty, you'll just sit there and take her bratty domination RIGHT IN YOUR FACE because afterall, only a small dicked loser would be so bothered by a pretty blonde chewing gum.
Includes: gum, bubble gum, gum chewing, bubble gum blowing, bubble gum popping, mouth fetish, femdom, pov, bratty, bitchy, sph, small penis humiliation, mean girls, tongue fetish, mouth fetish, gum smacking, mouth sounds, asmr, blonde.