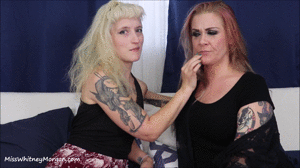 10:50 video
Whitney and Miss Quin are hanging out together. Quin says how much she loves Whitney's mouth. For as long as they have been friends, she's been obsessed with Whitney's mouth, desperately wants to touch it, play with it. Whitney finds this a little weird, is unsure but before she can respond, Quin wastes no time, using her bare fingers to pry Whitney's mouth open.
Quin then uses her bare fingers to spread and fishhook Whitney's cheeks apart wide. Grabbing, yanking on her tongue, rubs her fingers on Whitney's tongue, teeth, inside of her cheek. Quin holds her hand out in front of Whitney's face, telling her to lick the palm of her hand. Whitney sensually licks Quin's palm with her wet tongue, Quin plays with the spit, smelling it. She has Whitney lick each individual finger, deepthroating Whitney with a finger inducing more saliva. Whitney gags, Quin puts her hand out in front of Whitney, telling her to drool on the palm of her hand. Quin pushes the tongue and mouth play on Whitney until she decides she's had enough. Whitney rants about having her tongue, mouth played with but Quin shushes Whitney by placing her finger onto Whitney's lips. Whitney will try to talk in spite of a finger being firmly pressed against her lips, making her speech muffled, so Quin places her entire hand over Whitney's mouth to really keep her quiet. Quin removing her hand off, taps her finger onto Whitney's lips, telling her to get this mouth ready for next time.
Includes: mouth fetish, teeth fetish, tongue fetish, spit, saliva, drool, hand fetish, oral fixation, throat fetish, hand over mouth, hom, finger fetish, finger worship, hand worship, hand licking, face fetish.