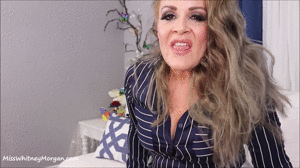 10:40 video
Miss Whitney Morgan is your sadistic step-aunt, who is always catching you staring at her butt. She decides to confront you about your behavior and make a deal with you. She will show you her naked ass and let you jack off and cum all over it...but then she and your step-mom get to bust your balls...literally!
"You don't have the BALLS to get a BONER around me now, do ya?" Mocking you. "Go ahead, jack that boner off...shoot your big load all over my butthole!" Laughing while giving you jerk off instructions, "Your step-mom and I are gonna take turns busting your NUTS after this!"
Throughout the video she shows off her naked butt, taunting you about getting a boner from her ass. Posing to show off her butt teasing you, "Your step-mom said you wouldn't have the BALLS to shoot your load on me...lol".
After you shoot a HUGE load all over her ass, she say: "Well, I guess your step-mom and I have you by the BALLS now! When we're done with your testicles, you won't be able to get a boner for awhile! LOL!"
Includes: taboo, mean, joi, jerk off instructions, ass fetish, butt fetish, booty fetish, ass tease, ass joi, pov, Femdom, female domination, cum countdown, bratty, tattoos, inked, humiliation.