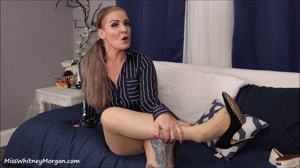 12:40 video
Miss Whitney Morgan is your psychiatrist - although you used to date, never getting over your attraction to each other - Whitney has been "treating" you for your Keds & high heel fetishes. Without getting too domineering or mean - instead using more of a sensual but very confident, aggressive approach - Whitney tells you to strip, put on the panties & Keds she's provided for you as part of your treatment. She instructs you to start masturbating.
She strips slowly out of her work attire, her heels & slip into Keds keeping her lingerie & stockings on. She masturbates with you, sliding her lingerie to the side, telling you to watch. Rubbing high heels on her pussy. You beg to cum when she cums, quivering orgasmic voice telling you she's cumming - legs spread in the air, bottoms of Keds pointed at you.
She dirty talks throughout - how she knows you love seeing Keds, how you would love to fuck her in her Keds, the smell of her feet in leather heels & Keds, etc.
Includes: therapy, keds, shoe fetish, sneaker fetish, soles, heels, jerk off instructions, joi, pov, stripping, nylons, stockings, pantyhose, foot fetish, shoe smelling, sensual domination, masturbation, solo erotica, female orgasm, pussy play.