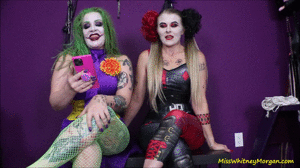 8:47 video
Fan Question Friday Cosplay Edition - Joker & Harley - Whitney & Kitty Pt1
Welcome to another edition of Fan Question Friday! A very special cosplay edition just in time for Halloween! Miss Whitney Morgan fully decked out as Lady Joker and Kitty Quinn as Harley Quinn.
Listen in to YOUR fan submitted questions for BOTH of them like first times, pet peeves, what and why we picked the characters we perform as, if they were air fresheners what & what scent would they be, tons of fetishcon questions, their live tickle demo questions, & MUCH more!
Includes: cosplay, makeup, costumes, halloween, horror, fishnets, spandex, ama, ask me anything, fan submissions, fan questions, interactive, confessions, tell all, questions, answers.