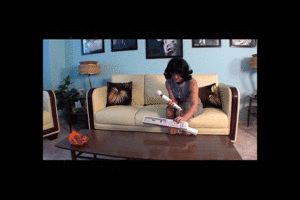 10:34 video
Filmed, Produced, & Edited by ARTiste! Shared with Tomiko.
If you know Dr. Who, you know that he's a time lord, a time traveler, with a trusty sexy feminine sidekick. This time around, his sidekick (Whitney) has been nothing but a trouble maker.. Breaking ALL the rules Dr. Who has set in place for a reason.. falling in love, changing the history of mankind.. This time, she's traveled back in time to the release date of the HITACHI! Finding a gullible housewife (Tomiko), who thinks that this nifty thrifty vibrator is REALLY just intended to use on soar muscles.. Whitney shows here what it's REALLY for!!! Stripping down this 1950's housewife and strapping that ever so powerful little device to her pussy - Whitney hopes to change the outlook for women's sexuality for the rest of time! MEN WILL NEVER BE NEEDED AGAIN TO GET YOU OFF! This is what a REAL ORGASM feels like!!
But oh no.. The Dr has arrived, and he's NOT looking all too happy at Whitney's plan to change the universe.. She's been warned in the past (you know, that one time she went back in time to give women dicks - because we'd get FAR better use out of them...) He warns Whitney is was the last time she fucked with the linear timeline.. He sends her to the FUTURE to be punished!
Includes: FO, vibrator, vintage, orgasms, orgasms, garters, stockings, lingerie, stripping, aliens, monsters, transformation, wigs, glasses, bra, panties, retro, British, lesbian, fishnets, pussy, boots.