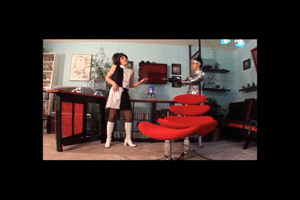 13:37 video
Filmed, Produced, & Edited by ARTiste! Shared with Tomiko.
If you know Dr. Who, you know that he's a time lord, a time traveler, with a trusty sexy feminine sidekick. This time around, his sidekick (Whitney) has been nothing but a trouble maker.. Breaking ALL the rules Dr. Who has set in place for a reason.. falling in love, changing the history of mankind.. This time, she's traveled back in time to the release date of the HITACHI!
The Dr promptly sends Whitney into the FUTURE for justified punishment!
Landing on a planet ruled by robots, she is completely mesmerized.. Her mind is under full control of the fembots.. She is made to strip and strap down. Gagged with a huge ballgag making her immediately drool uncontrollably all over herself, legs spread with a spreader bar, hands cuffed behind her... Whitney has set her doom.. Now and for the rest of her life, she will be made to ORGASM over and over and over again.. No control, no rest, no lube. She sealed her own future of eternal cumming - even though she was only trying to help promote girl power.
Includes: FO, orgasms, hitachi, vibrator, time travel, transformation, aliens, monsters, ballgagged, humiliation, mesmerize, women following orders, mental, domination, mind, control, pussy, vintage, spreads, spreader bar, drooling, drool, spit, wigs, struggling, catsuit, bra, panties, fishnets, robot, fembot.