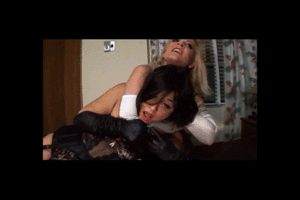 8:56 video
Filmed, Produced, and edited by ARTiste!
Where we left off.. Tomiko leaves Whitney to struggle and throw a temper tantrum.. off to steal the lady's valuables and start a new life! But Whitney isn't going to give up without a fight... wiggling her way out of the ropes, making her way to her bedroom, finding Tomiko, putting her in a choke-hold, leaving her limp and for the taking. Tomiko comes to, bound in leather straps around her waist and arms, big gag shoved in her mouth.. "We're going to play a little game Tomiko, I've always wanted a pony.. and you'll do just nicely!" Whitney jumps up on her back, wrapping her legs around Tomiko's waist "GIDDY UP!!!" She rides her around the room, kicking her in the sides and spanking her to go faster! Next she jumps up on Tomiko's shoulders - so high up she can touch the ceiling! "Whoa little pony! Slow and steady wins the race!" At this rate, Whitney will finally have the pony she always wanted!
Includes: cat fighting, lift and carry, rope, bondage, vintage, retro, spanking, pantyhose, stockings, garters, girdle, lingerie, maid, role play, pony play, limp, smoking, high heels, domination, asian, blonde, gloves, DiD, damsel in distress, ass, gag, gagging, cleave, feet, tickling, nylons, wrestling, leather straps, bit gag, drooling.