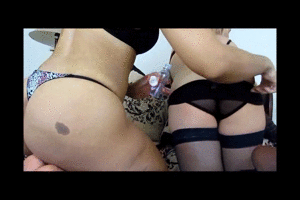 6:31 video
I bet you've alway fantasized about having a super sexy phone conversation with either Enchantress Sahrye or Miss Whitney Morgan.. But guesss what, this time.. you get BOTH! They're going to have a sexy chat with you about oiling up eachother's tushies.. Giving each other shiny hineys JUST FOR YOU! Rubbing slick, sensual oil all over their beautiful, curvy, bare bums - on each other - while talking extra dirty to YOU for a private phone conversation.. Maybe YOU should get a little oil for yourself.. Hearing this steamy conversation, you're going to need it!
Part 1: Enchantress Sahrye oils up Whitney's shiny hiney tushy tush for you while Whitney talks dirty to YOU on the phone!
Includes: lesbian, phone sex, dirty talk, ass, rump, butts, bum, oil, shiny, hiney, rear, girl-girl, pov, curvy, blonde, latin, tushie, talking, thongs, panties, lingerie, bedroom, fantasy.