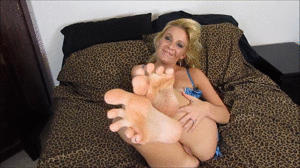 14:08 video
Think you can't have it all? Well you can.. Enjoy a super sexy POV foot job AND blow job with Miss Whitney Morgan.
She teases you while laying in bed, in sexy satin lingerie.. which she pulls up to reveal her tight pink little pussy.. and zips down to show off her little perky tits.. her soft, sweaty, barefooted soles, wiggling toes, high arches begging you to fuck them.. She sucks her own toes, licks her own soft sweaty soles - showing you just how yummy they are, getting them soaking wet to take all of you between them.. her soft, slick wet lips begging for more...
She gets into position, sucking your cock to get it nice and hard for her sweet little foot pussy.. Alternating between foot fucking you and blowing your cock. Rubbing your throbing cock with her little piggy toes.. and her big fat drooling pink tongue.. Stroking you with her high arches, her deep sweaty wrinkled soles.. She licks and drools all over her feet to slick them up for your cock, drooling and gagging on your cock just a little more as she looks up at you begging to fuck you with her beautiful size 8.5 feet until you cum ALL over them.. and a little more all over her.. You cover her soft soles in creamy white cum as she continues to milk every drop out of you.. And then, she's going to lap every drop off of her feet, licking her lips (and soles and toes) begging for MORE!
Includes: feet, foot, fetish, legs, lingerie, pov, footjob, blowjob, tits, boobs, pussy, worship, licking, sucking, toes, arches, soles, blonde, tease, cum, dirty talk, legs, wrinkles, drooling, spitting, gagging, deepthroat, footpussy, handjob, lips, tongue, mouth, oral, milking.