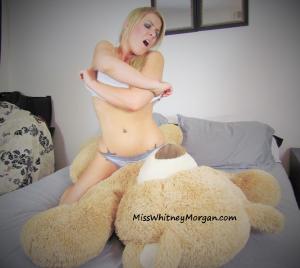 27 photos
Exclusive photoset on MissWhitneyMorgan.com shot by Sydney Screams.
Whitney is very ashamed of not losing her virginity yet, all of her schoolmates poke fun at her.. Whitney is completely humiliated, and doesn't want to be left out. She confesses her sexual desires to Bear, and asks Bear if she can have a little bit of practice.. What starts out as an inocent little grinding, turns into Whitney completely nude riding Bear until she cums ALL OVER HIS FUR!
Includes: plushy, furry, 18, 19, virgin, uniform, college, adult school, socks, sex, xxx, orgasm, stripping, tits, blonde.