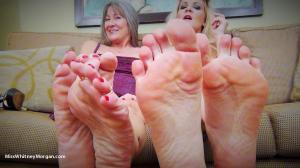 Exclusive photoset featuring Leilani Lei and Miss Whitney Morgan
Leilani and Whitney have noticed that the whole evening out, drinks, dinner party, and all.. The ONLY thing you seem to be able to focus on.. Is, their FEET?! Their cute little peep-toe high heels.. Letting JUST THE TIP of their little tootsies poke out, teasing you.. You want a peek? A sniff? A TASTE?! Leilani and Whitney slip off their high heels, DANGLING them in your face as their little toes pop out. They notice your raging hard boner, popping a tent in your pants.. They think this would be a great opportunity to taunt you.. Tell you to pull your cock out, start jerking it to their sweaty, smelly feet in your face.. Wiggling their toes, scrunching their soles, showing off their high arches. BUT, you have the play by the rules.. If they tell you to STOP.. you have to stop pumping your cock.. If they tell you to pump it 3 times, jerk it for 3. And when they tell you to CUM, you better CUM.. Or you don't get to. And, if they tell you to lick every drop off.. That is.. IF they tell you to.. You better do it. Or you'll never get sexy feet like this in your face - ever again.
Includes: feet, foot, fetish, milf, gilf, soles, toes, games, joi, jerk off instructions, masturbation instructions, games, tease, denial, masturbate, wiggling, arches, scrunching, flexing, high heels, legs, pov, taunt, giggle, humiliation, blonde, sweaty, smelly.