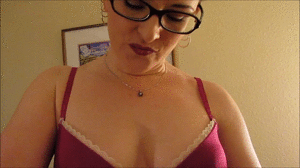 16:49 video
Stunning, strong dominate Caroline Pierce wants to show you her softer side, her little submissive secret, she LOVES being gagged.. Teeth clenched, cheeks puffy.. ALL kinds of gags.. cleaves, detective style, over the mouth, through her teeth, duct tape, mouth packing, big black ballgags XXXX her to drool all over herself.. And she KNOWS how much YOU love to see her pretty perfect HUGE mouth with her seductive red lips GAGGED!
She strips down to her bra and tiny thong exposing her beautiful curves, sexy stilettos, perky round booty shaking in your face.. She walks you over to her array of fun gags to shove in her mouth.. One by one she gags herself for you, giving you lots of sexy gag talk, dancing around while giving you bedroom eyes, getting on all fours to tease you.. licking her lips in between each.. She has a couple tricks up her sleeve just for you... she picks up a pair of handcuffs! Cuffing her little wrists tightly behind her back, struggling helplessly for you, squirming in her chair, whimpering through her gag as she reaches to pull it out... "I want YOU to fucking GAG ME!" Two mysterious hands pop up on either side of her with a thick cloth cleave gag - GAGGING Caroline TIGHTLY!
She struggles and gag talks more, enticing YOU to come play with her..
Includes: fetish, femdom, glasses, thong, gag, gagging, cleave, mouth packing, duct tape, bdsm, drooling, gag talk, stripping, handcuffs, cuffs, struggling, bondage, DiD, damsel in distress, HOM, pov, ass, high heels, tease, dirty talk.