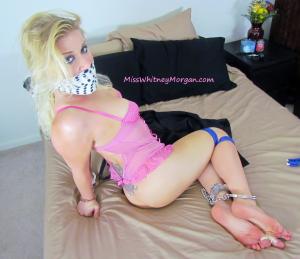 20 photos
Exclusive photo set!
Miss Whitney Morgan is YOUR girlfriend, and she's been a good little girl.. doing your laundry and household chores all day long while you've been hard at work. BUT... she uncovered some little secrets of yours... She found your bondage magazine/dvd collection. But have no fear, she's into it. She's REALLY REALLY REALLY into it.. And has been waiting for a way to tell you, better yet.. SHOW YOU! She's going to tie herself up for you, letting herself struggle all tightly bound in bed, waiting for you to come home from work to take advantage of her. She cuffs her ankles, toe ties herself, ties her knees, thighs, ballgags herself, then stuffs her mouth, cleave gags, detective style gags herself, AND cuffs her wrists behind her back. She struggles until she tires, waiting for you.. for more.
Includes: pov, bondage, self bondage, gagging, cuffs, toe tie, rope, fetish, kink, drool, dirty talk, blonde, feet, toes, gfe, girlfriend experience, girl next door, confessions, lingerie.