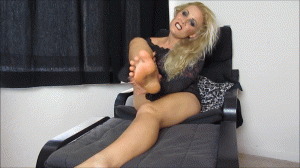 7:23 video
By special member's request!
It's Tickle Talk with Miss Whitney Morgan! Whitney has a confession she wants to make, something you might already know. SHE. LOVES. TICKLING. It truly is a fetish of hers. She tells you how much she wants YOU to tickle her! That's right... She confesses her most ticklish spots, shows you how ticklish she is with her very own bare hands! But she doesn't want HER tickling hands roaming her body, she wants YOURS! She wants YOU to tickle her from head to tippy toe - especially the toes! From her collar bone, armpits, ribs, hips, butt cheeks, knees, all over her feet, and ALL OVER HER! She's SO ticklish.. And LOVES being tickled!
Includes: tickle instruction, tickle talk, dirty talk, pov, gfe, girlfriend experience, chatting, blonde, fetish.