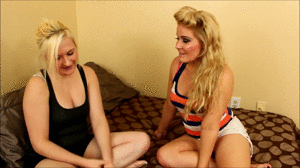 10:41 video
Girlfriends FiFi Foxx and Whitney Morgan are having a little girl time, when FiFi brings up that she's REALLY nervous about an upcoming date she has planned.
"I have to admit something to you Whitney.. I've never really, you know.. Done anything naughty.. I've never even had an orgasm.. And I'm really afraid he might want to go all the way, and I won't know what to expect.."
Whitney's heard of a secret technique of sensually licking, sucking, fingering, and tongue fucking each other's bellybuttons to bring each other to sheer orgasmic bliss.. "Wanna try?" Whitney strips FiFi down, pulls her panties low, and gets to work.. Bringing FiFi over the edge to experience her first belly-gasm!
"Oh Whitney! I HAVE to do you now too!" Whitney strips down to bra & low rise panties to expose her nude bellybutton for FiFi to munch away at until Whitney feels a warm rush all over her entire body, making her scream out in pleasure.
Think FiFi will really need that date now?
Includes: girl-girl, bellybutton, bellygasm, stripping, panties, bra, lowrise, blonde, lesbian, licking, spitting, fingering, no nudity.