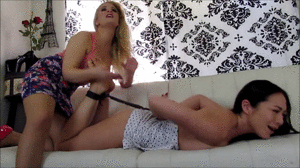 6:39 video
Nyssa Nevers awakens to find herself in quite the predicament. She's topless, barefoot, and tightly hogtied by Dr. Whitney. Woozey, she looks back over her shoulder to see Dr. Whitney grinning from ear to ear with her hands clasped around Nyssa's feet. Dr. Whitney explains "..in order to overcome your fear, you must face it head on.. and I feel like we weren't making any progress with you... unrestrained. This is for your own good Nyssa, you can trust me.. I'm a doctor!"
Dr. Whitney proceeds to wildly tickle Nyssa's barefeet - from heel to toe, in each wrinkle, her high arches, in between each toe, and even on the tops of her feet. Not to mention, throwing in a little all over body tickle torture.. You know, for her own good. Laughter is the best medicine afterall. With Nyssa in tears, sweating, and out of breath.. Dr. Whitney explains that she feels it's best if they do a little extrensive therapy at Dr. Whitney's home office.. While Dr. Whitney briefly leaves, Nyssa attempts to make a grand escape.. To be continued.
Includes: feet, foot, fetish, asian, blonde, tickle, ticklish, tickling, laughing, struggling, crying, barefoot, topless, upskirt, butt, ass, hips, armpits, tied, hogtied, bound, rope, bondage, DID, damsel in distress, escape.