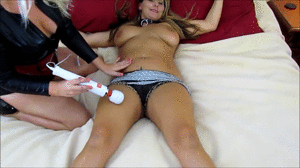 10:46 video
Throwback! From the unedited archives of Miss Whitney Morgan.
Lovely pornstar Devon James completely submissive, completely humiliated, completely in her place.. Crawls to the bedroom to wait for further instruction from her new Mistress - Miss Whitney Morgan.
Miss Whitney Morgan ties her to the bed, spread eagle. Tightly, there is no escaping. Miss Whitney Morgan pulls upon Devon's slave collar to remind her who is in control, and then she clicks the hitachi on... The vibrator roars with anticipation of rubbing against Devon's pussy.. XXXX her to cum over and over and over again for her Mistress. Devon tries DESPERATELY to hold back, gritting her teeth, closing her eyes, clenching her muscles... But Miss Whitney ALWAYS wins. Rubbing her clit ever so hard with the vibe she can't hold back anymore... And won't be able to for a while.. As Miss Whitney Morgan is going to leave the hitachi in Devon's panties, vibing on that clit as she struggles for freedom.
Includes: bondage, bound, spread eagle, pornstars, femdom, domaination, XXXX orgasm, hitachi, vibe, vibrator, struggling, damsel in distress, begging, orgasm, orgasm control, mistress, blonde.