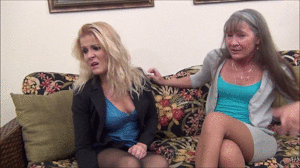 10:52 video
Miss Whitney Morgan is quite the party girl.. and it's been effecting her work. She's been late half a dozen times just this month, been known to take extra breaks AND FALLS ASLEEP on the breakroom couch.. not waking up in time to return back on schedule.. She's gotten away with it so far, but this time boss Leilani Lei catches her in the act.
Leilani nudges her, "Time to get back to work... oooh quite some time ago Whitney... You know, I COULD fire you for this.. Your performance has been lacking significantly lately.. And we're not hurting for help around here.. That is.. unless you can convince me other wise..."
Whitney BEGS "PLEASE PLEASE PLEASE! Leilani, I NEED this job.. I promise I'll be better, get to bed early, be in on time.. I'll do ANYTHING to keep my position.. ANYTHING!"
Leilani, "Anything?" She dangles her high heel in Whitney's face, stinky, smelly, sweaty pantyhosed feet scent tickling Whitney's nose... "Worship these hard worked pantyhosed feet.. Afterall, at least I've been working all day... it'll show you what your feet should smell, taste like by the end of the day.."
Whitney gags, scrunches her nose... but does as she's told.. Sniffing, smelling, licking those pantyhose soles, sucking Leilani's pantyhose toes to her utmost satisfaction to keep her job.
Leilani, "Good job.. maybe we'll make this a regular breaktime activity if your performance seems to be slacking... NOW GET BACK TO WORK!"
Includes: feet, foot, fetish, soles, toes, pantyhose, nylons, stockings, milf, boss, employee, high heels, dangling, smelling, smell fetish, humiliation, domination, stinky, sweaty.