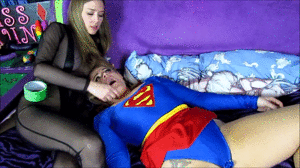 7:56 video
Sinister Star (Star Nine) returns to Harley Quinn's lair... "Harley, I looked EVERYWHERE.. I can't seem to find that stupid Super G-..." Star walks over to Harley's couch... "Well well well.. what have we here? A resting little Super Girl ripe for the taking..."
Super Girl, weakened, starting to slowly come to.. moans, groans, coughs in a disarray, unaware of her surroundings..
"Silly ditzy Harley must have left you here all alone.. Too bad you're MINE now, and all of that ransom money!! MmMm I can't wait to spend every penny for my super capture!" Sinister Star unrolls kryptonite laced duct tape, securing Super Girl. "Well, I'm going to make certain you don't get away from my grasp!" She binds Super Girl's wrists, ankles, thighs, and of course her whimpering little mouth.. "Awe does that kryptonite tape burn?! HAHAHA! Poor Stupid Super Girl!"
Sinister Star is sure to remove Super Girl's belt to weaken her even more, to the point where Star can grope, spank, and toss her around.. Even pulling out her innocent little tits - "Oh my! Super Girl! Exposed! Guess we should cover those up with some more TAPE!!" Star places more kryptonite tape on Super Girl's nipples, she screams and struggles for freedom..
All the while, Harley returns to bring Super Girl in.. "What do you think you're doing! She's MINE! The money is MINE!!" Harley and Star argue, verbally cat fighting over whom should claim the super payoff for Super Girl.. leaving Super Girl unattended...
Super Girl manages to slowly gather herself, stand up, and hop away to safety in her weakened state to fight crime another day!
Includes: superheroine, supervillain, pantyhose, costume, cosplay, harley quinn, star nine, miss quin, super girl, whitney morgan, blondes, leotard, humiliation, tape, kryptonite, bondage, bound, hopping, gagged, exposed, tits, boobs, nylons, belt removal, cat fight.