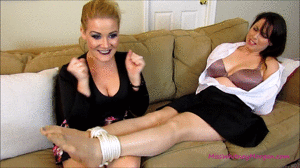 6:48 video
"Job well done Miss Sydney Screams! Job well done!" Dr. Whitney applauds Sydney at her amazing work, great capture, perfect ticklish damsel in distress as Dr. Whitney finishes securing the rope tightly bound around Stephanie Pearle's wrists and ankles.
As Stephanie slowly comes to... Dr. Whitney wastes utterly NO time in seeing through that Stephanie receives the utmost care and intensive foot tickle therapy session to the point of begging, tears, and a bit of anger.
Dr. Whitney examines her ticklish pantyhose soles, toes, arches, legs, knee pits.. and a bit more all over Stephanie's squirming, struggling, ticklish curves.. and breasts as her opened blouse (thank you Sydney) falls wide open leaving her exposed.
But Dr. Whitney is in for a bit of a disappointment, as Stephanie manages to escape, hoping out of her ropes as Dr. Whitney heads off to secure a safe space for additional tickle torment er therapy..
Includes: feet, foot fetish, soles, toes, legs, bra, breasts, tickling, ticklish, struggling, begging, laughing, pantyhose, stockings, nylons, brunette, DiD, damsel in distress, rope, bondage, bound.