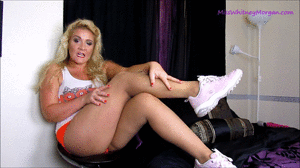 8:11 video
Miss Whitney Morgan was a naughty Hooters waitress today, she neglected to wear her uniform socks with her silky suntan sheer pantyhose and well worn sweat soaked sneakers. But she did it for YOU. She knows how much you simply love the sexy look of nothing but pantyhose and sneakers together, and that sweet scent it gives her feet - she giggles, grins as she licks her lips reminding you what a lucky foot lover you must be today to get these perfect pantyhose feet. She slowly slips off her old, funky sneakers.. gives them a little whiff - tells you how they smell before offering you a little sniff if you beg her. She wants you to breathe her in, intoxicate yourself with her Goddess scent, her hard worked pantyhose feet, her soft sweaty soles wrapped in silky pantyhose, her wiggling toes as they tease you so close in your face.
"Inhale me, breathe me in, let my perfect Goddess pantyhose scent fill your lungs.. slowly controling you.. owning you with just one deep breath.. with every sweet whiff of my pantyhose feet, you will worship me.. now and forever.."
She grins devilishly as she bring her sweet suntan sheer pantyhose soles and wiggling toes closer and closer to your greedy foot loving face. Your eyes roll back into your head as you breathe in deeper, deeper.. Controled by Miss Whitney Morgan's perfect pantyhose feet.
Includes: hooters uniform, waitress, pantyhose, sneakers, goddess, blonde, pov, feet, foot fetish, soles, toes, smell fetish, stinky feet, sweaty feet, scent, tease, flirty, legs, mind control, goddess worship.