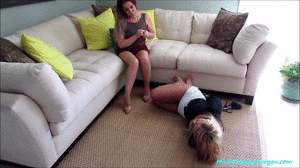 7:45 video
Ah yes, that's much better isn't it? The beautiful blonde bombshell Adara Jordin tightly tied in hogtie on the floor to struggle with every ticklish touch by Dr. Whitney. Adara slowly comes to, and is quite unhappy to say the least about her predicatment. Struggling, screaming, begging for release.. but she's not going to get the kind of release she had in mind..

No, Dr. Whitney pulls out a hitachi vibe to uh.. release some ticklish tension on Adara. "See, with every mind blowing orgasm you'll learn to LOVE tickling a little bit more and a little bit more until it becomes just as much of a fetish for YOU.. as it is for ME.. or just be bound and tickled forever!"
Dr. Whitney continues to tickle Adara's feet, her legs, knee pits, ass, hips, arm pits, ears.. but of course always going back to those pretty perfect little bare scrunchedsoles, wigging toes, so sweet so soft so ticklish!

Planning a more secure location for more in depth foot tickle therapy, Dr. Whitney leaves Adara.. assuming she'll struggle to exhaustion on that vibe.. and NOT escape for revenge..

Includes: feet, foot fetish, foot tickling, tickling, tickle fetish, ticklish, barefoot, soles, toes, bound, rope, bondage, hogtied, no gag, vibrator, hitachi, laughing, begging, blonde, orgasms.